Biofeedback Device for Athletic Training
Athletes can benefit greatly from a biofeedback device for athletic training, such as the mTrigger Biofeedback System. sEMG biofeedback helps monitor athletic training to help athletes train for improved performance.
Assess and monitor your athletes from strength training to injury prevention and return to sport metrics. Trainers can easily diagnose muscle activation and recruitment issues in their athletes by observing sEMG data through the mTrigger app. mTrigger provides real-time data during exercise, meaning trainers can more effectively train target muscles to improve their athletes' performance.
Biofeedback training offers the following benefits: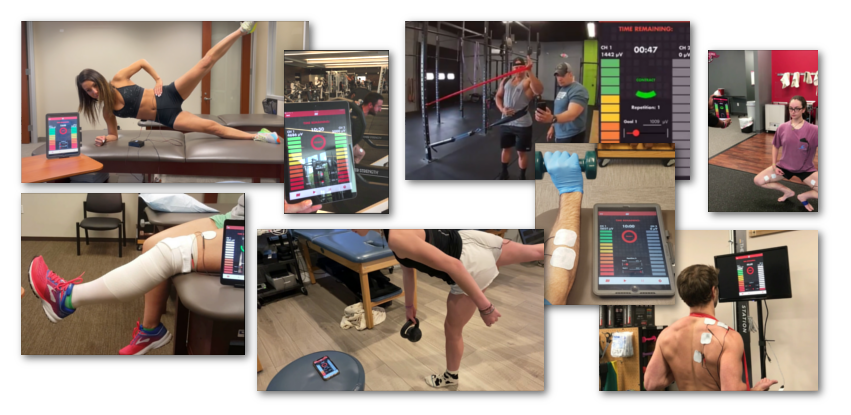 You're in control
Using sEMG biofeedback systems such as mTrigger for athletic training and recovery provides the means to achieve deeper understanding and control of the body. Tap into your athletes' motivation and motor learning with visual rewards and gamification of exercise. With sEMG biofeedback data relaying real-time muscle activation, athletes and trainers can see where improper activation or deficits are affecting performance and better formulate training programs for success.
The mTrigger biofeedback device is incredibly portable, utilizing an app and electrodes to provide a visual representation of neuromuscular activity. Whether you are utilizing biofeedback during an outdoor training session, in the locker room or gym, or at a hotel room on the road, our system is easy to bring along and hook up to any mobile device. Whatever day or occasion, you can be sure you have the tools to assess your athlete's capabilities—and help them train effectively—wherever you are.
With mTrigger, trainers have a tool to optimize performance for their athletes. Build strength and volitional control that have long lasting functional effects. Make adjustments to therapeutic exercise programs and strength and conditioning to get fast, safe results. Reach out to our team of experts to learn more about our biofeedback device for athletic trainers and how the mTrigger Biofeedback System might benefit your team.

Learn more on the mTrigger Blog