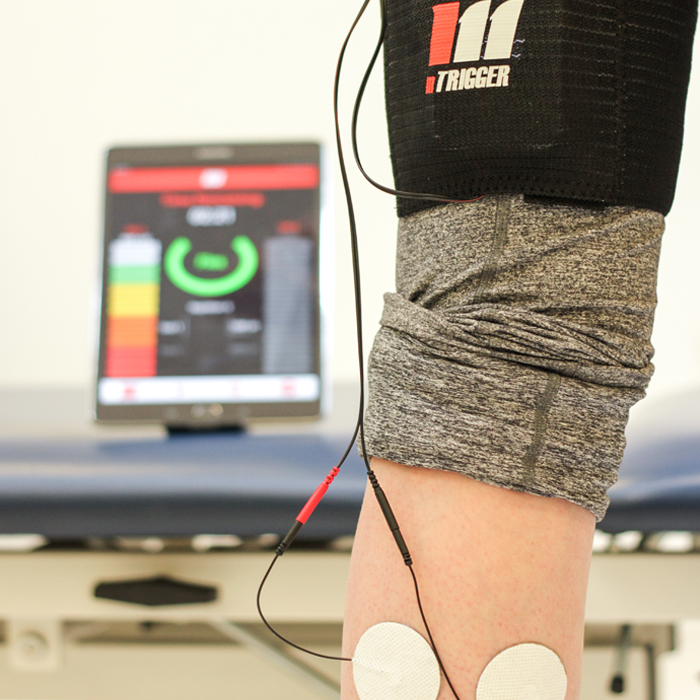 Biofeedback Device and sEMG Biofeedback System
Your Clinic – Amplified
Your clinic works smart; your team leverages the best tools and modalities to get patients back on their feet; you provide the most positive experience and the fastest outcomes possible. The mTrigger® Biofeedback System was developed for clinicians, by clinicians to support your practice.
Achieve results with our biofeedback device by engaging patients in their rehabilitation – mTrigger's sEMG biofeedback system adds an element of innovative fun and motivation that empowers everyone to work towards a common goal: return to function.
In your hands, our easy-to-use biofeedback system helps patients make the most of every rep so that rehab is efficient, effective, and enjoyable.
Better tools enable better outcomes –  welcome the dynamic mTrigger® Biofeedback System into your clinic and engage with a biofeedback device that truly works with you.
How Does mTrigger Benefit its Users?
As a practice owner and clinician with 9 years experience, I cannot say enough positive things about the mTrigger Biofeedback System. The greatest impact on our clinic has been patient satisfaction and overall experience with the system. Patients are more engaged in the rehab process and able to achieve quicker results with the visual feedback training. Contractions are held longer and stronger, endurance is built quicker, and a more positive experience is encountered by the patient as opposed to traditional physical therapy and exercise. I would recommend the mTrigger Biofeedback System to any and all physical therapy practices. What a great tool!
mTrigger has made a significant impact on our practice and outcomes. The mTrigger is applicable for all ages and a multitude of diagnoses from neuropathy to post-operative shoulder and knee patients. We have had great responses from patients stating how easy it is to use and how much harder they push themselves as a result of having visual feedback.
"Thank you mTrigger for helping us help our patients!"
"This is the first time that I've really felt my quads working during this exercise and the first time I've been aware of how to fire them."
"I felt improved quad contraction following use of the device. I was able to isolate my muscle better and felt a stronger contraction and improved leg raise following use."
"mTrigger offers a new way to look at [my son's] readiness to return to sport. Very interesting."
"The mTrigger has allowed me to use my arm a lot earlier than I expected. It has greatly improved my deltoid and shoulder strength, and the game mode is entertaining and fun!"
"The mTrigger was a great tool to help me as a clinician better treat my patients. The neuromuscular feedback the device provided was extremely beneficial, especially when working with an orthopedic, post-operative patient population. I would recommend this device to any clinician looking for ways to improve their patient care and to improve feedback for their patients. I don't know why every physical therapist does not have this."
" The mTrigger Biofeedback devices have been an exciting new resource for us at OSTC, especially with our post-operative patients. Patients that have experienced the mTRIGGER device have welcomed this new technology with open arms. Many of these patients have been excited to see their progress visually after a surgery and watch their improvements and strength gains grow over the course of their physical therapy. We are excited to integrate this new system into our daily use in the clinic and look forward to venturing down the different avenues of possibilities. This technology will help us to provide unmatched orthopedic and sports physical therapy to our patients. "
Younger patients as well as our high school and college athletes respond well to the components of competition the games provide while teaching them how to better contract specific muscle groups. Patients are always prompting therapists to raise goals and trying to obtain at least 90% success within the games. The mTrigger system has brought a fun and physically exhausting element to our post surgical rehabilitation techniques. Thanks mTrigger!